Yesterday we premiered our latest production "The DistANCE" by authors and choreographers Michal Rynia and Nastja Bremec Rynia.
"As creators of this performance, we acknowledge the unique relationship we have with the unknown. Our creative process is rooted in intuition and imagination, embracing dance as an art form that goes beyond what artificial intelligence can currently achieve.
Dance allows us to tap into the depths of human expression, conveying emotions, stories, and experiences that are inherently intuitive and deeply personal. It is a form of communication that transcends language barriers, societal norms, and rationality.
While artificial intelligence continues to advance and demonstrate remarkable capabilities, it is still unable to replicate the intricate nuances of human movement, emotion, and creativity that dance encompasses. Dance is an embodiment of the human spirit, a celebration of our unique ability to connect with ourselves and others through the language of movement.
In a world increasingly influenced by technology, we strive to remind ourselves and our audience that dance remains a powerful and irreplaceable art form. It ignites our senses, stirs our emotions, and invites us to explore the uncharted territories of the human experience. With every performance we aim to unleash the limitless possibilities of dance, embracing its ability to remind us of the profound depth and richness of our humanity."
Michal Rynia and Nastja Bremec Rynia - choreographers and authors of the performance
Congratulations and thank you to all the amazing dancers Tjaša Bucik, Nastja Bremec Rynia, Noemi Capuano, Marie De Silva, Maria Cecere, Paula Garcia, Rebecca Granzotto, Luca Marchi, Erica Modotti, Eri Nishibara, Michal Rynia, Pere Sansaloni Servera, Luka Vodopivec.
Thank you Matjaž Bajc for the outstanding lighting and all technical support. Special thanks to Ana Kržišnik Blažica for her incredible dramaturgy and assistance, Mateja Starič for the stunning music, Hana Huseinspahic for the captivating mask design, and Gorazd Prinčič for making the brilliant scenography elements. Thank you Jasmina Bremec for all the work on the administrative. Thank you to the sound designer Stojan Nemec, technician Bogdan Repič and all the SNG Nova Gorica's stuff. We are extremely grateful for the support from GO 2025 Nova Gorica · Gorizia, which allowed us to establish ourselves as a stable ensemble and made all this possible. Thank you to SNG Nova Gorica, the Ministry of Culture of Slovenia, and the Municipality of Nova Gorica for their invaluable support. Thank you Cankarjev dom Ljubljana and Gorizia Dance Festival Visavi. Last but not least, a heartfelt thank you to everyone who attended our premiere. Your positive energy and appreciation meant the world to us. You can still see the performance on Tuesday, 17th of October at 20.00 at SNG Nova Gorica. There will be more performances following in January and in March 2024.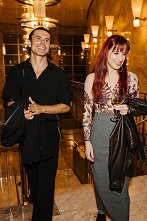 Klemen Batagelj, Mediaspeed/SNG Nova Gorica